Tired Souls: King and the Montgomery Bus Boycott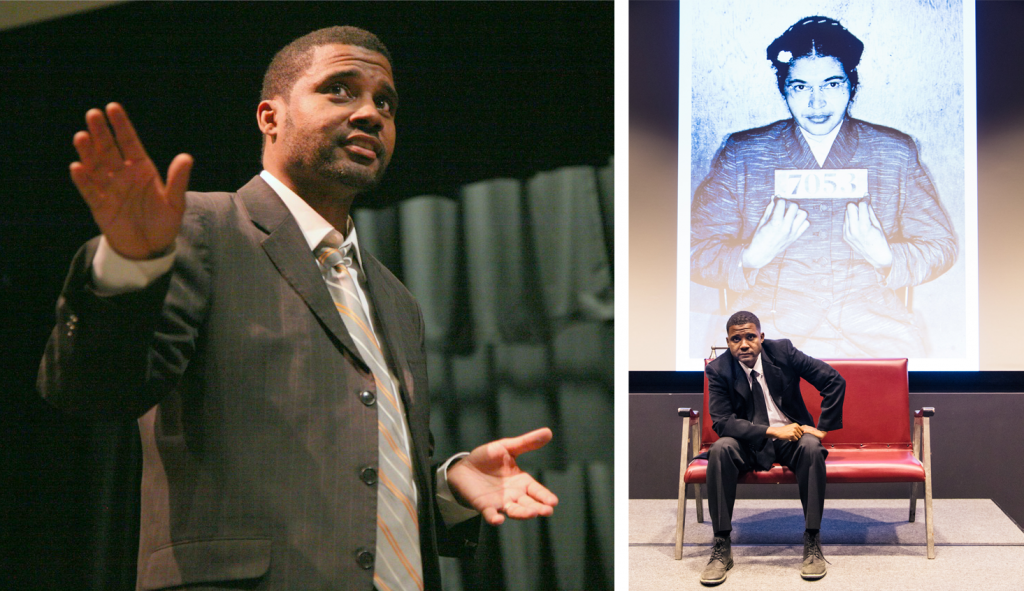 Tired Souls: King and the Montgomery Bus Boycott
Friday, October 21, 2022 @ 10:00 am
---
Tired Souls opens in Montgomery, Alabama on December 1, 1955 – the day Rosa Parks refused to give up her seat on a city bus to a white man. Her determination was the catalyst that inspired Montgomery's black citizens to abandon all travel on city buses until they were no longer forced to sit in the back or stand when a white person boarded. But there were others who came before Mrs. Parks and laid the groundwork for this pivotal moment. Tired Souls introduces audiences to Jo Ann Robinson, Claudette Colvin and others so instrumental in lighting a fire under the Civil Rights movement and changing the course of U.S. history forever.
Tired Souls is a one-man production featuring actor and playwright Mike Wiley, whose distinctive original works in documentary theatre, film, educational residencies and performances for student audiences has been acclaimed across America and abroad. His dramas relay the stories of fugitive slaves, civil rights game changers, sports heroes and freedom fighters. Dynamic multi-character portrayals offer penetrating views into parallel lives whose roles within African American history have shaped a richer total American experience.
Wiley's impressive one-man "casts" sometimes introduce dozens of characters during the course of a single play. Morphing between characters of multiple races, young to old, man to woman, his gripping stories enlighten and inspire audiences of every age to apply history's lessons to gripping issues of today.
An M.F.A. graduate of the University of North Carolina in Chapel Hill, Wiley's catalog as playwright now includes more than a dozen original theatrical works, including eight docu-drama one-person plays that Wiley tours throughout the US, along with a growing number of full-cast ensemble plays available for professional licensing and production. His ensemble-cast works have been mounted by such notable producing companies as Guthrie Theatre in Minneapolis, Hatiloo Theatre in Memphis, Virginia Stage in Norfolk, Playmakers Repertory Company in Chapel Hill and others.
Mike Wiley was presented the "Distinguished Alumni Award" by the University of North Carolina in 2017, and has been featured as News and Observer's "Tar Heel of the Week," profiled in Our State magazine, spotlighted on UNC-TV's "North Carolina Now" and North Carolina Public Radio's "The State of Things" and was named the Indie Artist of the Year by the Independent Weekly.
Mike Wiley is a former Lehman Brady Visiting Joint Chair Professor in Documentary Studies and American Studies at Duke University's Center for Documentary Studies and the University of North Carolina at Chapel Hill.
During summer/fall of 2020, virtual filmed versions for streaming of all eight of Mike's solo-actor touring performances were prepared in collaboration with The Clayton Center in Clayton, NC. Additionally, the five-day teaching artist residency "From the Page to the Stage" with Mike and fellow NC playwright Howard Craft was adapted into virtual format by secondary school systems.
In 2020, Mike Wiley received the Ann Atwater Award presented by Manbites Dog Theater Fund to recognize Triangle theater artists and companies whose body of work reflects and honors Durham activist Ann Atwater's lifelong commitment to social justice. He was also recipient of the NC Theatre Conference Constance Welsh Award for Theatre for Youth. He received the 2020 Andre DeShields Best Actor Award from the National Black Theater Alliance for his performance in DAR HE: THE STORY OF EMMETT. Wiley currently leads the online series "Higher Ground Conversations" addressing current issues with national civil rights and social justice leaders.
---
Best for
Grades 3-5
Curriculum connections:
U.S. History, Civics, citizenship, leadership
Video
Educator resources
Download the study guide here
---
Reserve seats for your students today!
Don't forget to review details for your success on Arts Smart's homepage: artscomm.ecu.edu/arts-smart/