The President's Own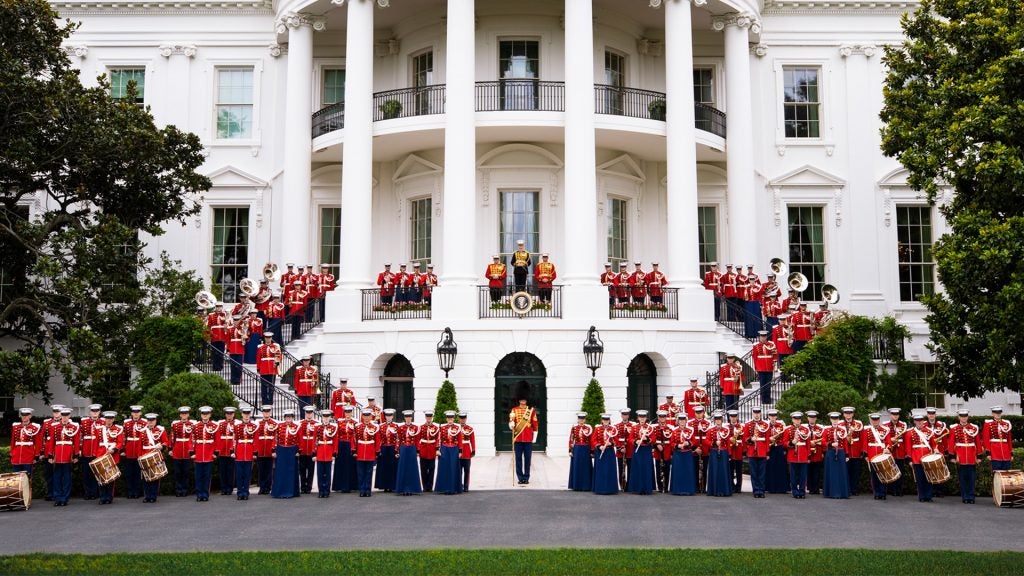 United States Marine Band "The President's Own"

A free world-class performance.
Sunday, October 3, 2021 at 3 p.m. Wright Auditorium, general admission seating.

Tickets are free but required. This page will include a hotlink on 9/5 when they become available.
---
Description
The United States Marine Band was established by an Act of Congress signed by President John Adams on July 11, 1798, and is the oldest continuously active professional musical organization in our country. The Marine Band is the only musical organization whose primary mission is to provide music for the President of the United States.
When the nation's capital moved from Philadelphia to Washington, the Marine Band came with the President and made camp "on a hill overlooking the Potomac" near the present site of the Lincoln Memorial. The Marine Band presented its first public concert in Washington on August 21, 1800.
Thomas Jefferson gave the Marine Band the title "The President's Own," but in a larger sense the Marine Band is the band of the American people. As our nation's oldest, continuously active musical organization, the Marine Band has witnessed more of our American history than any other musical ensemble. Whether serenading Adams or Jefferson, accompanying Lincoln to Gettysburg, or performing here at the White House, the Marine Band has become a national institution and a national treasure.
No other musical organization can claim the heritage or historic precedence of the United States Marine Band. Since the Marine Band made its White House debut in 1801, it has functioned as "The President's Own" band. As such, the Marine Band is the band of the President and serves the office of the presidency in a non-partisan fashion. Since Sousa's time, and probably before, the Director of the Marine Band has served as the Music Advisor to the White House for support of State and other official functions.
Read a comprehensive history of "The President's Own" here.
---
Performance timing
Two acts with an intermission.
---
Video
---
Sponsors
The Alexander Series is only possible because of you, dear ticketholder. Ticket sales are the foundation of our budget, and your support translates directly to our continued success. Additional support comes via our FRIENDS organization, ECU's Student Involvement and Leadership, South Arts and the North Carolina Arts Council. This series is supported by the N.C. Arts Council, a division of the Department of Natural and Cultural Resources. www.NCArts.org.
---
Venue information
---
Series
This event is a part of the S. Rudolph Alexander Performing Arts Series. Founded in 1962, the series presents world-class touring artists to support the quality of life for all eastern North Carolinians.
---
Tickets
Tickets are only available online using the link above. Doors open at 2:15 p.m and seating is general admission until 2:45 p.m. At that time, all tickets are void and available seats will be allocated to those interested in attending. No large bags, please.